It's a new decade so why not try out a new sex toy or one of the new sex toy trends?
With new strides in sex positivity, the sex toy industry is more popular than ever and it looks like this is going to be 'kinky' year. (Lucky us)

I've written a little bit about kink related topics, but today I really get to stretch my BDSM muscles.
Now although the first book was published back in 2011, with the books and following films in the Fifty Shades of Grey series has thrown BDSM into the forefront of the 'normal' person's consciousness and got the noticing sex toy trends around them.
Then they had a great reason to explore the subject in the safe environments of a book EVERYONE was reading without the label of being a pervert.
And guess what…
A lot more people are now interested in purchasing kinky sex toys. And when this happens, the manufacturers jump on the trends and start producing even more of them.
So Fifty Shades Of Grey...We salute you at Escape Vanilla.
Now, enough of nostalgia because before I get into specific toys let's talk about a few sex trends that are making the rounds in the coming year and beyond.
Sex Toy Trends
#1 - Exhibitionism
While 'exhibitionism' usually refers to having sex in public or with someone watching, a much more popular type of the kink finds pleasure in the small things. Namely, having a sick orgasm during a super boring meeting.
Luckily for us there are several new types of sex toys that you can control with a little remote or even from your phone!
And let me tell you, it's suuuuper arousing to have an orgasm right in front of someone and they do not even realize that's what's happening. Truth is, even the thought of it now makes me want to put down a towel.
These little pleasure machines tend to come in the form of a panty vibrator or a butt plug (it's your choice whether it vibrates or not).
Picking up a discreet vibrator that can hide under your clothes is a great way to dip your toes into the BDSM lifestyle without having to commit to anything that's too scary with these little pleasure machines often coming in the form of a panty vibrator or a butt plug.
Next one for the men...
While this isn't as extreme as having sex with your partner in public, it's still pretty kinky.
And even if the Fifty Shades as a series can be a little cheesy at times their sex toys are really good quality so hats (or nipple clamps) off to them there.
Seriously though, I think this is one of the best panty vibrators there are. It's pretty quiet and fits nicely down below and I love how strong the vibrations are.
And if you're interested in a bit of exhibition play, you can hand over the remote to your partner and let them turn on the vibrations when you're not expecting it.
I remember one time I gave it to my other half and good god, it was exhilarating to try to string a sentence together while I'm on the brink of an orgasm.
It's pretty great! I just wish it came with a pair of panties, though. That would make this the most perfect panty vibrator I've ever seen. Guess I'll just have to make do for now, though.
#2 - Big Strides In Automatic Penis Strokers
Sex toy engineers (or 'sexgineers' as I like to call them) have been trying to create an automatic masturbation toy for years, and from what I can tell they have become pretty advanced and leading sex toy trends recently.
True, this technology isn't as widespread as let's say, a rabbit vibrator (Which are now much more affordable). However, manufacturers such as Fleshlight & FleshJack are working on it.
Amazingly enough, the Fleshlight Launch can already be hooked up with VR or other interactive videos so It's pretty crazy how quickly technology is advancing!
Okay, so this might come as a surprise, but I wouldn't have much use for this myself as I'm sure you've guessed I'm a 'lady'...So, instead I had to outsource the trial of this toy.
I have a friend who's pretty into VR and he loved using this toy! This is one of the few vibrating strokers that can be hooked up to a VR headset.
Really, I think it's about time smart devices started applying to sex toys. We have enough Alexas and Google Assistants, I just want a sexy virtual assistant that can get me off, goddammit!
Just imagine the future of AI sex robots. God, I'd love a robot that could eat me out. Just thinking of all the kinky robot sex I could have makes me wet...
But I guess an interactive fleshlight is pretty cool, too. Baby steps and all. I'll just have to invest in AI sex robot stock for now.
#3 - Long-Distance Sex Toys
We've covered a few app-controlled toys on this site already. But they've really gone up in popularity recently and fit right in to this years sex toy trends.
Whether you're looking for a sex toy that can help you feel closer to your long-distance partner, or you want a discreet sex toy that can be operated with a push of a button. No longer will you need to stand in line at the grocery store with nothing to do!

And this is what the Lush 3 delivers, near or far.
Just pretend you're browsing for memes on Facebook and let the magical vibrations send you to all levels of euphoria.
Not too long ago, I was in a long-distance relationship, and these app-controlled toys were such a great addition. It made me feel so much closer to my partner when they had control over my orgasm.
So if you're in a long-distance relationship, or you want to try out a Dom/Sub dynamic, app-controlled sex toys are a great option for you!

Discover more about the Lush 3 and how it can really transport your sex life into the future here. (Kicking and screaming!)

Top Pick: Lush 3 The Most Powerful Bluetooth Remote Control Vibrator
#4 - 'Gamification' of Sexual Health (With Toys)
Well, you gotta do your Kegel exercises if you want a healthy pelvic muscle floor. But exercising is kind of a pain. What if you could make it a bit of a game?

You're probably getting as excited as I am, right? Well, sex toys are trying to create good Kegel exercise habits now! Just use your masturbation habits to have a healthier pelvic floor.

Your pelvic floor health is super important because they help maintain continence, alleviating symptoms of pelvic organ prolapse, and even reducing lower back pain!

While you masturbate, electric toys deliver weak pulses of electricity to contract or relax your pelvic floor muscles. Unfortunately, these toys aren't completely widespread, yet, but if we support the company that makes them, we can hopefully get more of these toys made. That is the capitalist way, after all.
Everyone with a vagina knows they 'should' to do Kegel exercises, but just sticking a pair of beads in your vagina is kinda difficult if you have no idea what you're doing with them.
Introducing the LELO Luna Smart Beads!
I've covered the Luna Beads before, but recently, LELO has essentially created a personal trainer that can help you get a stronger pelvic floor.
Unlike regular Kegel beads, the Smart Bead registers every time you do Kegel exercises and helps you create a routine to maximize your orgasm potential.
Now, if you're not sure why you should care about your pelvic floor health, there are actually other reasons to make it stronger than just having a better orgasm.
One such reason is that your pelvic floor health is actually integral to your ability to control your bladder and is a big reason when some women experience the odd leakage.
Now it's nothing to be embarrassed about but if there's a way to help everything 'tighten up' then everyone's a winner.
So go ahead and pick up the Luna Smart Bead! Your body will thank you later!
#5 - CBD Lube
Well even the thought of this is a little confusing but I'll carry on... With the recent legalization of CBD oil, everyone and their mother has begun developing CBD products from beauty products to lube.
Honestly, I never imagined that CBD would be used in sex products, but on closer inspection, it's not much of a surprise. CBD is naturally calming, so it actually can calm your pelvic floor muscles and encourages blood flow, enhancing your orgasm. Sounds pretty great, right?
Unfortunately some types of CBD oil can't be used on some sensitive areas so make sure you buy CBD oil made specifically for application to your sensitive bits.
Foria's CBD Lube can be used to give a steamy massage to your significant other. I like to use this to massage my current partner's vagina.
Just take a little bit of oil and rub it around the labia and clit, or even inside the vagina. This is my favorite type of lube since it has the calming aspects of CBD that make any sex play tons of fun! It's also 100% safe to consume, so get your lick on.
Unfortunately, like a lot of high-quality brands of CBD oil, it's really expensive, costing about 12.50 per ounce. If you can overlook the cost...It'll be a nice addition to your toy box!
You can also get CBD Massage Candles now! See our top pick for that below...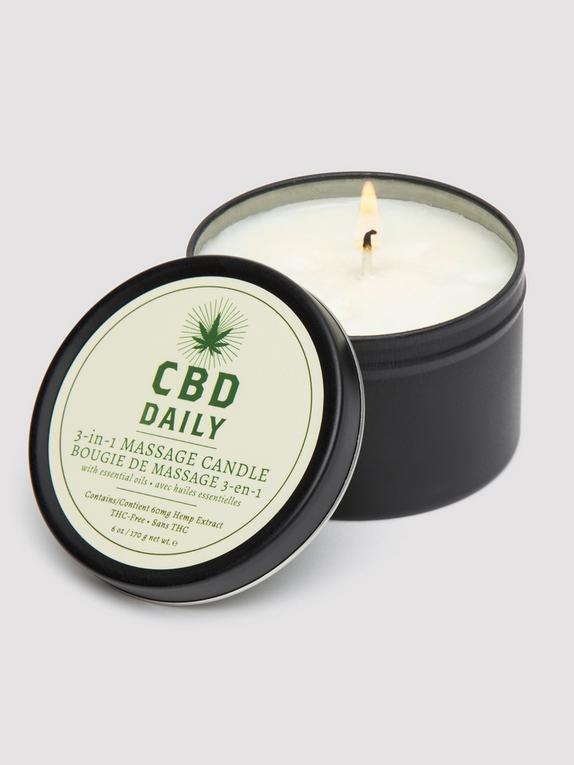 CBD Daily Massage Candle 6oz
In Conclusion...
A new decade brings about many different types of change, so why not try out a new type of sex toy too and take a closer look into sex toy trends.
With some new sex toys focusing not only on helping you feel more sexually satisfied, but improving your health as well. Sexual health is super important not just for your sex life, but for your body as well.
Also there have been new advancements in VR which means for the guys, you can buy an interactive fleshlight that simulates actual sex.
Nowadays there are so many options so there's just about anything you can think of to enter the new decade feeling great!