With the LOVENSE Lush 2 Vibrator you won't be disappointed! If your partner lives far, far, far away from you, this will really make you feel a little closer to them. The app's really user friendly and the toy itself feels great. It's waterproof so you can use it in the bathtub for maximum relaxation and it doesn't take long to recharge even though it lasts a pretty long time.
This particular little toy is app-controlled. Now, I've reviewed a few these type of sex toys before and I think they're pretty nifty! Where they really come into their own is if you're in a long-distance relationship as they can be controlled from anywhere and so the fun doesn't have to stop as soon as your other half steps on that plane.But that's not to mean you can't play with this on a lonely 'night in' either because this will deliver any time the urge grabs you....
So To Start, Let's Look At The Lush 2 Vibrator's Features...
Alright, so this really is the reason its stands out from other sex toys.
Long distance relationships are hard. Without that physical contact that eye starts to wander 😉
So anything that can close that gap, even a little bit, is always welcome.
The love egg aspect also adds a little bit of cheeky exhibitionism and discreet enough that you can wear them in public. If you're into that thrill you get when your partner turns the vibrations on, this is definitely the one for you.
While you may not think it's all that useful if you don't have a partner at all, you can still operate it yourself from your own smartphone so everyone's a winner.
Is It Rechargeable?
Yes.
I don't know about you, but I hate buying batteries.
Like, it's totally a first world problem, but I live in a first world country so I'm gonna buy whatever makes my life a little bit easier and a sex toy that you just have to plug in to recharge is always nice.
And it only takes about 2 hours of charging to get 2-3 hours of battery life. Of course, you'll need to recharge it somewhere other people won't find it if you don't want your housemates or family to know the intimate details of your sex life.
Wet, Wild & Waterproof
Who doesn't love taking a bath and getting your rocks off?
I know I do. Just light some candles, pour a little bit of soap and enjoy your bubble bath. If you're looking for sex toys, you should always look at whether or not something's waterproof if you like to use your toys in the bath. You don't want a nasty accident! And the Lush 2 Vibrator doesn't disappoint..
The Low Down On The Lush 2 Vibrator
So if you're interested in checking out Lush 2 Vibrator, you won't be disappointed!
Especially if your partner lives far away from you. As it could make the difference between you living 'happily ever after' or a messy breakup.
The app's really user friendly and the toy itself feels great. It's waterproof so you can use it in the bathtub for maximum relaxation and it doesn't take long to recharge but still lasts a pretty long time.
Unfortunately, for me, I like a real 'buzz' so I'd like it a bit more if the vibrations were a little stronger. And, while the signal does occasionally drop, it's not all that frequent. It doesn't last very long so right when you notice it, it'll probably already be reconnected.
But other than those little things, I really like this toy! It's such a good toy to work in a little bit of exhibitionism if you're into that kind of thing.
But not everyone's interested in using a love egg. So I also wanted to give you a few other options for app-controlled toys you can check out...
Other Toys In The 'App' Family
Here's a wand vibrator if you're more interested in external stimulation.
This particular toy comes with some pretty cool accessories! There's a little clit flutter you can attach to really focus on your clit. There's also a penis sleeve to use if you have one.
And do you wanna know something else that's really cool? It only turns on when it's in contact with your skin.
How cool is that?
Like the Lush 2, it's rechargeable and waterproof which is super nice if that's something you're interested in.
I found it a little annoying that it didn't come with a bag or anything else to keep it in.
This isn't that big of a deal, but this is a pretty expensive toy, I would've liked something just a little bit extra. But all in all, this is a great wand vibrator if you're looking for something app-controlled.
Here's a rabbit vibrator if you want some of that sweet, sweet, blended orgasm action.
I really like the look of this toy because it looks really sleek and futuristic. But this doesn't have anything to do with the functionality of the toy, so let's get onto that, shall we?
This toy provides super strong vibrations! You can work up to your orgasm slowly or just pound it out!
Okay, okay, that was a really gross way to put it, but my point still stands.
This is a great vibrator to use. I did notice that it can take a little bit for the toy to connect to the app which is one of the downsides to using an app to control your toy.
But I didn't find this to be too big of a problem, but if you're someone who just wants to get right to the action, you might want to skip this toy.
If not, pick this toy up and get to having some fun!
And here's a toy for all the men out there!
Now, I don't have a penis, but I gave this toy to one of my friends and he loves using it!
This toy functions much like a vibrating butt plug but also stimulates the area under your balls. He uses it pretty often with his partner and they love using it together!
The vibrations are really strong and it isn't all that hard to keep it in. It's easy to use the app and overall it's a great toy to use even if you're alone.
If you have a penis and you want to spice up your sex life, definitely check this toy out. You won't regret picking it up!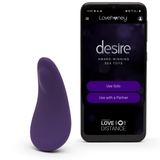 I've never covered panty vibrators before, but I wish I had!
This specific one sits flush with my underwear and is really discreet. Like the Lush 2 love egg, you can give your partner complete control while you're at home or out in public.
Make sure you wear clothing thick enough since there is a light on the vibrator. I haven't had many problems with the light being visible, but I wear jeans or other pants made of thicker materials.
I don't really own leggings, but I imagine they wouldn't be all that compatible with this toy. I'd recommend checking whether or not the light's visible before you go out in public just to save yourself a little bit of embarrassment.
But, after you've checked, you're going to have a lot of fun with this toy! Enjoy your little exhibitionist thrills with your partner or by yourself.
I'm pretty sure I've covered this toy before, but I think it's worth mentioning again because it's such a cool toy!
The suction on this vibrator is super strong and this will make your clit REALLY sensitive. I really like the app since it's super easy to use.
The curve of the toy is super nice and makes it really comfortable to hold. I think it's a really cute color, too! It's a lot softer of a shade than the bright pink a lot of sex toys come in.
Not that there's anything wrong with bright pinks. I think there's a place for every color, but it's nice to have colors other than bright pink, purple, and black.
I'm not that big a fan of the charging dock since it seems really easy to knock it off. Then you're left with a dead toy and a whole lot of sexual frustration.
I've had to put it up out of the way to keep this from happening, but if you can't put your toys out in the open, make sure you've got it someplace it won't get knocked out of place.
But if reading about this toy makes you feel excited, check it out! It's so fun to use! The vibrations are super strong and it doesn't take long to cum.
There's a ton of different settings so if you prefer starting slowly, you can do that with ease. So check it out if you're interested!
Final Thoughts...So Does The Lush 2 Hold Up To Other App-Controlled Toys?
I'm happy to say it does! Because there's so much variability in terms of the different types of app-controlled toys, I can't choose any of them over the other.
If you're interested in an app-controlled toy, I'd recommend any of these toys so choose the one that best fits your needs! I tried to cover a variety of different toys so there's a little bit for everyone and if you can't decide between them, you can always buy them all. Just Sayin'..