So you want to put your cock (or someone else's) in a cage, huh? Lucky for you we created the ultimate guide to cock cages. Literally... everything you need to know. So you can skip all the confusion and get the scoop right here.
You'll find out why people use cock cages and how to choose the right one for you. We'll unveil our top 5 picks. As well as give you some juicy information on how to start your journey into chastity play.
What Is A Cock Cage?
A cock cage, also called a male chastity device, is exactly what it sounds like. It's a cage - which can be made from metal, plastic, or silicone - that one wears around the flaccid penis preventing it from becoming erect. Technically it's a sex toy.
Who Are Cock Cages For?
This question needs to be answered in two separate ways. First, it's for the person with the penis. Second, in certain cases, chastity play involves a Dom/Domme who demands the penis in question remains chaste.
Most cages come with a small padlock that prevents the wearer from removing it without a key. Some users prefer to give the key to someone else (known as the "chastity keyholder") and let them choose when they're finally allowed to take it off.
So, it's for any consenting adult who's interested in male chastity play, whether they're the wearer of said cage or the one demanding it's to be worn.
Why Would Someone Want to Put His Penis in a Cage?
I'm sure there's countless personal reasons, but generally it, falls into 2 camps:
Masturbation Addiction
Some men experience need to relieve themselves multiple times a day to the point where it interferes with their daily routine.
Some of these men find that wearing a cock cage during the day prevents them from indulging in sex and/or masturbation, allowing them to get through the day without distraction.
This might sound obscure, or even laughable, but sex addiction is just as much an addiction like any other and can cause serious problems in the afflicted person's daily life. Wearing a cock cage allows them to relieve the problems associated with sex addiction, while, ironically, being unable to relieve themselves.
The other reason…
For Kinky Purposes
Some men find having a woman (or someone else, depending on their sexual orientation) control their ability to use their own cock to be a huge turn on.
It's hugely psychological - both for the person wearing it as well as the person demanding chastity. There's a lot to be turned on by knowing you're in control of someone else's orgasm, or conversely, under the control of someone else's sadistic desires.
(Orgasm denial, anyone?!)
What Can Be Done With A Cock Cage, Once It's On?
For the most part, this can be answered with one word:
Nothing.
That's the point. It's largely meant to prevent the wearer from using his dick and cock cages are extremely effective at doing so.
But that doesn't mean other types of fun can't be had while wearing a cock cage.
Teasing
The keyholder has the option to send dirty text messages to the person wearing it, knowing full well they'll become excited from reading them, yet are unable to act on any urges.
Talk about self control or what! (So cruel)
Prostate Stimulation
According to VICE, in recent years, more and more men have become more comfortable experimenting with prostate play and are often pleasantly surprised when they do so.
Adding a male prostate toy or a prostate massage can add a VERY interesting dynamic to male chastity. A device intended to prevent erections/ejaculations combined with one that stimulates erections/ejaculations can provide some serious 'cock-nitive dissonance'.
Terrible puns..? In a male chastity article..? You bet.
Just consider yourself lucky I didn't say
'cock-nitive dick-sonance'...
Urethral Sounding
If you're interested in wearing a cock cage, you might consider yourself a submissive - or at least playing the role of one while you're in chastity. Some male subs are into having a urethral sound used on them.
Because cock cages have a hole at the tip (which is mainly used for urination), using a sound on a caged cock is a very real possibility - and for some, a very exciting one!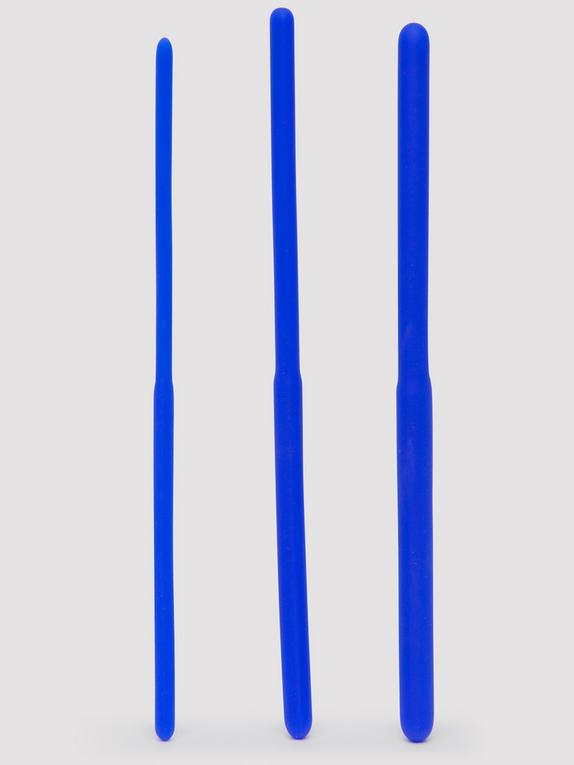 Master Series Silicone Urethral Sound Set (3 Pieces)
Types Of Cock Cage
Vibrating Cock Cage
Much like the prostate stimulation idea, a vibrating cock cage is particularly sadistic - providing extra stimulation to a cock that simply...
Can't.
Get.
Hard.
An alternative to a vibrating cock cage is to hold a vibrator against the cage. (A wand style vibrator works best, given its powerful motor and head made from a soft material that won't rattle when applied to hard plastic or metal.)
Spiked Cock Cage
For the particularly masochistic person seeking chastity, which I shall hereby lovingly refer to as a "chaste-ochist," spiked cock cages exist. Equipped with inwardly facing spikes, each drop of blood that makes its way into the penis results in increased pressure on the spikes, resulting in a particularly painful chastity cage.
FemDom (Female Dominant) Cock Cage
Some submissive men enjoy using a cock cage in tandem with a woman who controls when he wears it, and more importantly when he's allowed to remove it.
I asked my friend Mimosa - a professional adult film performer and Domme - "What's the allure of making a man wear a cock cage?"
"It's that the cock belongs to me. It's mine and you won't do anything with it that I don't allow. The ownership and control. The commitment and submission to my desires while foregoing your own."
Ultimately, the FemDom aspect of using a cock cage is using it as a control tool to keep men in chastity.
Now, that you're all hot and bothered, let's get you into a cock cage.
How to Choose The Right Male Chastity Device
Choosing the Right Material
Most cages are made from plastic, stainless steel, or silicone.
Each comes with their own list of pros and cons and each satisfies a different need depending on what you want.
A silicone cage might be your best bet if you're new to male chastity devices and are slightly hesitant (but still willing!) Lightweight and somewhat less rigid, they provide a nice alternative to a heavier and more constricting cage.
A plastic cage might better suit your needs if you're pretty certain about your desire to try a cock cage. More rigid than silicone, they definitely provide a more "trapped" feeling among your most sensitive parts.
Plastic chastity devices are moderately weighted - a happy middle ground offering a solid feel as well as the capability for longer durations.
A stainless steel chastity cage is always an option but is perhaps best saved for those with previous chastity experience. (Although if you want to jump right in, don't let us stop you! The water's warm…)
Which reminds me...


One benefit of a steel cage is more versatility when it comes to sensation play; put your cage in the refrigerator before putting it on for a particularly cock-shriveling experience!
Steel cages also provide a weightier experience. Depending on how you look at this, it could be a pro or it could be a con. For longer durations, it may make it more difficult for the wearer.
Although, for some, that may very well be the whole point! For others, a more lightweight option might better suit your needs.
Regardless of your experience level or what you're trying to accomplish with donning a cock cage, there are plenty of options for you to choose from. All it takes is a bit of clarity on what kind of experience you're looking for and choosing a cage that's right for you won't be too hard.
...and once it's on, neither will you.
Choosing the Correct Sized Cock Cage
Every penis is different.
(I know. Who knew?)
Choosing the right size cage is an absolute must in order to achieve the perfect fit without causing pain or damage. A cock cage should be snug enough to provide slight pressure around your dick (to remind you that it's there) and the ring should be snug enough to prevent the user from removing it.
It should NEVER cause numbness, restriction of blood-flow, or pain. If you experience any of these, remove it immediately. If that happens, the cage is too small. Or, you're too big 😉
Because it will be worn while you're flaccid, you want to make sure you take the measurements while you're soft-cocked.
First, using a soft measuring tape, measure the circumference of the base of your penis. Do this by placing the beginning of the measuring tape on top of the base of your penis, then wrapping it underneath (behind the testicles), and then back up over the penis to the starting point of the measuring tape.
You should have the measuring tape come full circle, beginning and ending at the top of the base of the penis.
Take that number and divide by pi (3.14). This is the number you'll use for the correctly-sized diameter of the ring.
(Making our fifth grade math teachers proud over here…)
Second, use a ruler to measure the length. Rest your pride and joy on top of a ruler, with the end of the ruler pressed against the scrotum. You'll be able to see the reading from above.
It's best to take each of these measurements two or three times and take an average. It's unlikely that all of them will be exactly the same, so finding the average of two or three measurements will ensure the most accurate measurement.
Third, for the love of everything holy, wash the rulers you just desecrated.
Now you have the two measurements required to choose the correct size cock cage. Compare them with the measurements listed on the product description to make the most informed decision on what size is best for you.
Putting on a Chastity Cage
Most cock cages consist of two main pieces (the shaft and the ring) conjoined by pins and a lock to hold them together.
Start with the ring. This might require some cock contortion - manhood maneuvering, if you will - so do it carefully. Start with one ball, then the other, then the shaft of the penis.
Putting a cock cage ring on is similar to perfecting a golf swing - one ball at a time.
Once you're through, take the shaft of the cage and slide it over the shaft of your cock. If your model has pins, align them so they fit as directed.
If you're having trouble, some lube may be in order. If any skin catches on the cage, a little bit of lube should sort that out just right.
If you've never worn one before, you'll want to wear it for a short period of time somewhere you have the privacy to remove it if need be.
Once you're comfortable with say, 15 minutes, then 30, then an hour...
As with all things kink, start slow and assess your comfort level as you progress.
How to Wear Your Cock Cage
With pride!
Or humiliation, if you're into that sorta thing…
Wearing a male chastity device isn't necessarily for everyone, but that's ok! Different strokes for different folks. If you're into it, don't let anyone yuck your yum!
Cock cages can be worn underneath most (but not all) clothing, so wearing it in public might be your thing. Add a bit of saucy secrecy by attending your next munch or mixer by wearing one.
Wearing it at home with someone else to enjoy your chastity might be up your alley. Wear it at home to spice up your (or your master/mistresses) daily chores!
The possibilities don't have to begin and end there. Find out what turns you on, then put your cock cage on to control yourself 😉
Top 5 Cock Cage Reviews
OUR TOP PICK! CB-6000 Male Chastity Cage Kit
The set of 5 rings and 4 locking pins make it particularly easy to find the correct fit. The lube sample included definitely helped.
Once you get yourself in, the fit was perfect - which I'm not exactly sure what that says about me, but I'm happy with it.
The plastic is smooth all around. I was worried about the quality of the plastic molds and potential burrs (you can see in the zoomed in product picture it's molded from two pieces then joined) but it's all good on that front.
Overall, I'm very happy with the quality, fit, and comfort (all things considered… it IS a cock cage after all…).
CB-6000S Short Male Chastity Cage Kit
If you've tried the regular sized CB-6000 and it was a bit too long, this will be just right for you. Definitely a top contender for "growers" or those who are "showers" but want a more constricting feel.
Just as with the regular CB-6000, the quality is high. The multiple rings and spacing pins offer a lot of variability to find the perfect fit, unlike some other cages.
Fetish Fantasy Extreme Chastity Belt and Cock Cage
Right off the bat, you can tell this cage is different from others because it's not intended to use your balls to keep it in place. Instead of a ring behind your balls, the attached leather belt is wrapped around your waist to keep it in place. It's a pretty interesting design, really.
The circular metal design provides a very interesting feeling when you do [try to] get an erection. It's similar to the inside of a ribbed fleshlight, if you have experience with one of those.
The missus saw the suggestion in the product description to attach a leash to it to lead me around the house and we both loved it.
The metal lock on the metal cage can make noise if you're moving a lot, but in private adds to the experience. In public, we remedied this by using a small zip tie in place of the lock.
Doc Johnson TitanMen Stretch-to-Fit Cock Ring Cage
Some kink purists might say this isn't a "true" cock cage, but if this is the product you want to start with, don't let anyone talk you out of it.
The circumference was a bit tight, so it's not ideal for long term use, but it's good for use during sex. I was scared the tightness of the ring might cause it to rip in the long run, but that hasn't been the case.
Definitely a great place to start if you're slightly hesitant about putting a more traditional, full size cage on.
Master Series Rikers Stainless Steel Locking Chastity Cage
I can only assume the "Rikers" part of the name refers to the maximum security prison Rikers Island in New York. With that said, the name is apt for the product.
I can't, in good faith, recommend this for beginners. It's weighty and very constricting.
If you're looking for something that REALLY provides the psychological aspect of chastity, this would be a great choice. Once it's on, you know it's not coming off.
It's a good thing this comes with two keys, because if you lose one, see the previous sentence.
Conclusion...
The sooner I wrap up this article, the sooner you'll be able to wrap up your cock.
The best chastity device on the list is the CB-6000 Male Chastity Cage Kit for a few reasons. It's suitable for both a beginner and those more experienced in chastity play.
The set of multiple rings and pins, along with the average sized cage is probably the safest bet to claim a one-size-fits-most size.
Take any of our ideas above or come up with your own (or have your Mistress/Master do it for you!) and get goin' on creating your ultimate chastity experience.